Practice
For users with the Admin Access, the "Practice" page found under Persons and Institutions | Practice allows users to change settings for the practice. The tabs are available for users without the "Admin Access" permission. However, only users with the "Admin Access" permission can see certain "Admin" settings on the "Preferences" tab. Please note that based on your practices configuration options may look slightly different than images in this article.
Billing Info
Practice billing information that will be used for billing information like claims and where the practice will be billing under a Practice NPI or under the provider NPIs under practice type. 
Pay-To Address
The Pay-to Address can be completed if payments should be made to a address different than the practice address. 
Preferences
The Preferences tab allows users to set practice wide settings for the practice on things like Reminders, Scheduling, Clinical, Billing, and Administrative settings. The "Admin" section is only available for users with "Admin Access". The "Password valid days" and "Password expires alert days" allows a practice to set a timeframe for how long a password will be valid and when to warn users.  
Statement Messages
Statement Messages tab allow for practices to be customized on statement based on the age of the balance and other text fields to be printed on statements. 
Statement Preferences
Statement Preferences tab allows custom configuration of a practices statements, and what information will appear. This page also allows for the creation of Superbills.
Direct
Practices that use the Direct Messaging feature for providers can configure the setup for under the "Direct" tab. 
EDI Billing Contact
For electronic billing the EDI Billing Contact is submitted with claims and provides the payer with contact information for someone at the practice. Only the name and phone or email field is required.
EDI Configuration
Valant allows for customization of EDI Configuration and can input fields on this page for third party (no-integrated) clearinghouses. Their enrollment representative should be able to give you some guidance for which fields they require. Most commonly the "EDI Submitter ID" which allows the clearinghouse to identify the practice based on ANSI 837 File header. (These fields are not required for integrated clearinghouses like Waystar and Change Healthcare)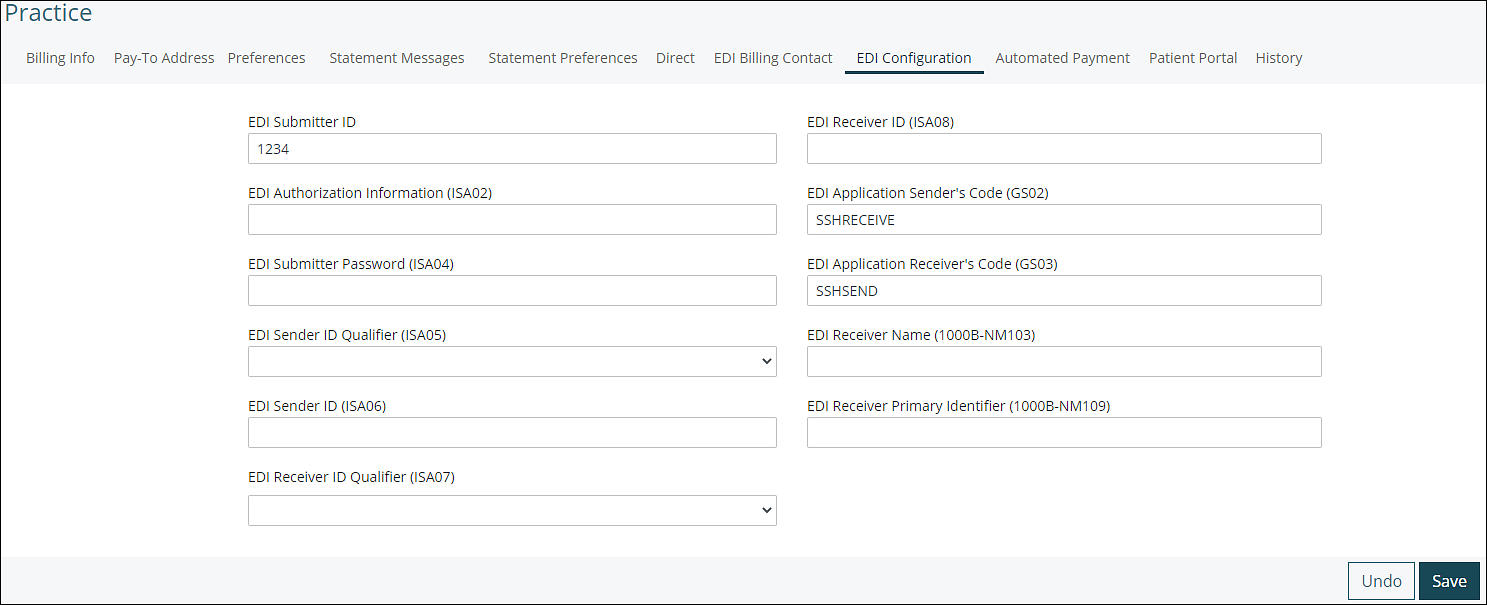 Automated Payment
The Automated Payment tab most likely is not visible for your practice. This tab is where Valant will configure your practice credit card processing credentials. Please do not edit or any details on this page. Valant will receive and input your credit card processing credentials. Editing this information can prevent your practices ability to process credit cards in Valant. 
Patient Portal
The Patient Portal tab will show your practices details like the URL for your patient portal and options about Appointment Requests, and Appointments Self-Check-In.
History
The History tab will show an audit log of history for the "Practice" page and show each time a change is made. 
Give feedback about this article